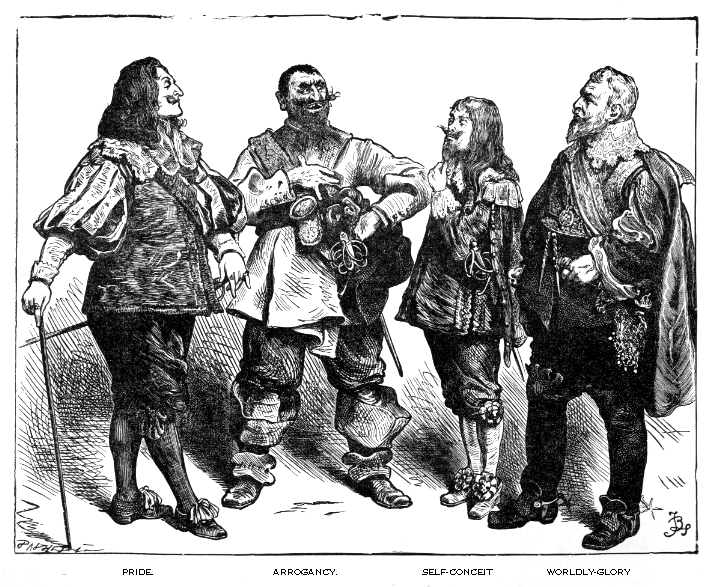 You remember your Bunyan, don't you? In 'A Pilgrim's Progress', written in 1678, Christian is on a journey from the City of Destruction to the Celestial City.  His path takes him through the Slough of Despond,  the Hill of Difficulty, the House Beautiful, the Valley of Humiliation, the Valley of the Shadow of Death, Vanity Fair, the Doubting Castle, and the Delectable Mountains. He also meets characters like Evangelist, Faithful, Hopeful, Discretion, Prudence and the Shining Ones, as well as Flatterer, Hypocrisy, Ignorance, Formalist, Timorous, Mistrust, Talkative, Giant Despair and of course Atheist, who help or hinder him on his way. Here is a map of his journey.
I have been thinking about pilgrimage in general recently, and my own journey in cyberspace, which I set out on in November 2010 with the launching of the Lay Anglicana website, followed in April by the blog. I am certainly aiming in what I hope is the general direction of the Celestial City, in that I am convinced the Church would be a better place if the powers that be worked in partnership with the laity – would 'equal but different' be pushing my luck? But of course I may be wrong. I cannot prove to you, or even to myself, that what I am trying to do is the will of God. Straight away, then, I am in the Doubting Castle, and trying to ignore the cautious but undoubtedly well-meant warnings of Timorous.
Hopeful takes me on one side and  points out that several people (who do look like genuine people of God) have encouraged me along the way. If I am wrong in thinking this is the way to the Celestial City, then they are wrong as well. Just as I am beginning to perk up, however, Mistrust 'kindly' points out that they may be Flatterers. But then why would flatterers bother to flatter me – there is absolutely nothing I can do for them. Well, apart from flattering them in return, I suppose. The Slough of Despond and Giant Despair lie in wait for the unwary, like Scylla and Charybdis, and the path that lies between is called Difficult. You're telling me! First of all, you have to  understand the machinery (and machinations?) of the Church of England. Then you have to push your personality to its most extravert extreme in order to get your message out there.
And then you have to understand the dark arts of Social Media. Although I have met many Shining Ones along the way who have tried to help me, they usually speak like oracles, so that, for those beset by Ignorance, some interpretation is needed : they too are to be found on the Hill of Difficulty.  But I have been lucky, like Christian, to have found many helpful companions and Talkative twitterers along the way: they rally me when my spirits are low, share my jubilation when another obstacle is overcome, laugh with me over some of life's absurdities, occasionally remind me of the need for Prudence, and teach me much that I need to learn. Even my Atheist is a Christian gentleman, though he might argue with the description.
There is one more problem, though, and it was anticipated by Bunyan. It is tempting to try and measure one's progress along the way, like every child on a car journey who has whined 'Are we there yet?' I can see that we are indeed not there yet, but I would dearly love to know whether I am making any progress. 'Easily done', say some of the experts, 'you need to check your tally on the social media metric sites.' A month or two ago, I conducted a little experiment, checking the names of some illustrious fellow-pilgrims against these tables of success. The measurements varied considerably from site to site. And now, my Mentor has pointed out that these sites give unwonted encouragement to those un-Christian gentlemen, Pride, Arrogancy, Self-conceit and Worldly-glory, in whose company one will never succeed in walking through the Valley of Humility, as must all Christian pilgrims:
  Christian: He told me indeed that he saw you go by, but I wish you had called at the house, for they would have shewed you so many Rarities, that you would scarce have forgot them to the day of your death. But pray tell me, Did you meet nobody in the Valley of Humility?

Faith: Yes, I met with one Discontent, who would willingly have persuaded me to go back again with him; his reason was, for that the Valley was altogether without honour. He told me moreover, that there to go was the way to disobey all my friends, as Pride, Arrogancy, Self-conceit, Worldly – glory, with others, who he knew, as he said, would be very much offended, if I made such a Fool of myself as to wade through this Valley.

Christian: Well, and how did you answer him?

Faith: I told him, That although all these that he had named might claim kindred of me, and that rightly, (for indeed they were my Relations according to the flesh) yet since I became a Pilgrim they have disowned me, as I also have rejected them; and therefore they were to me now no more than if they had never been of my lineage. I told him moreover, that as to this Valley, he had quite misrepresented the thing; for before Honour is Humility, and a haughty spirit before a fall. Therefore said I, I had rather go through this Valley to the honour that was so accounted by the wisest, than chose the way which he esteemed most worthy our affections.
The story, as we know, ended happily for Christian. Let us hope that it ends equally happily for those who would emulate him in the twenty-first century.
Notes
The engravings of the map and Christian's entry at the Wicket Gate are taken from a 1778 edition of the book, reproduced in Wikipedia.
The conversation between Christian and Faith takes place in the fifth chapter of the first part of 'Pilgrim's Progress'